Extracurricular Activities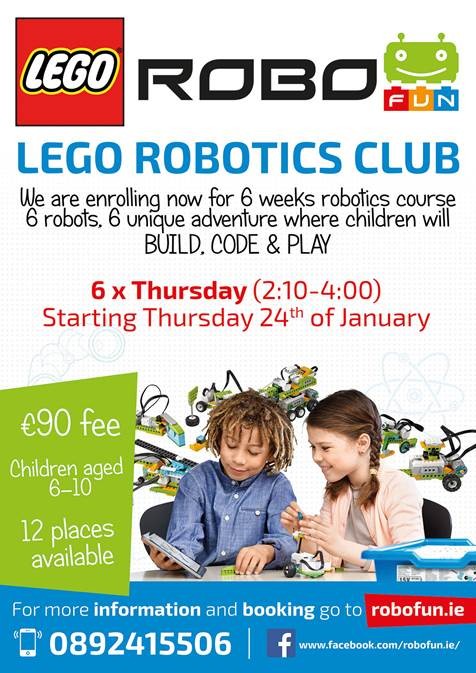 Homework Club
Homework Club: takes place Mondays - Thursdays 2:10 - 3:15
(Second Class to Sixth Class)
Contact:
Lourda Burke
(087) 2463792
Rising Sun Karate
Our Karate classes continue in the hall in Scoil Phádraig Naofa on Wednesday afternoons. Pupils have the opportunity to build fitness levels and agility while increasing co-ordination, self confidence and self discipline while still having fun.
Wednesday
1:10 - 2:10 - Junior & Senior Infants
Limited places still available
2:10 - 3:10 - 1st, 2nd, 3rd, 4th & 5th
Contact: Sensei Barry O Regan (6th DAN JKA) at Tel: (086) 7222779
Tennis
Tennis is popular with boys and girls providing exercise, agility, physical social and mental benefits. Mr Gibson has organised a tailored programme suitable for our students complementing the PE programme in use in the school.
Monday:
2.15 - 3.00
3.00 - 3.45
3.45 - 4.30
Contact:
Mr Gibson
(087) 2899196
Irish Dancing
Kiely Walsh Academy of Irish Dancing:
Our Irish Dancing classes continue on Tuesday afternoons in the hall in Scoil Phádraig Naofa.

Tuesday
1:10 – 2:10:
Junior Infants & Senior Infants
2:10 - 3:15:
1st Class – 3rd Class
Dance classes develop a love of music and dance while enhancing fitness, co-ordination, stamina and self discipline through dance.
Contact:
Miah Walsh (TCRG ADCRG)
Tel: (021) 4771924

Crafty Kids


Crafty Kids Art and Crafts After School Club.
Available for 1st – 6th Class
Thursday: 2:10 – 3:10
Friday:
2:10 – 3:10

Please note that your child must be collected from the front of the front of the school building at 3.10.

Contact:
Ms McEvoy (085) 7593946
or Ms Thompson.
(086) 3109467



Music Bug Club
Scoil Phádraig Naofa is one of the Outreach Centres of Cork City Music College where children are introduced on Monday and Tuesday afternoons to many facets of music in a structured but fun environment. Pupils are introduced to music making and notation through the use of voice, recorder and percussion instruments.